Thank You To Our Sponsors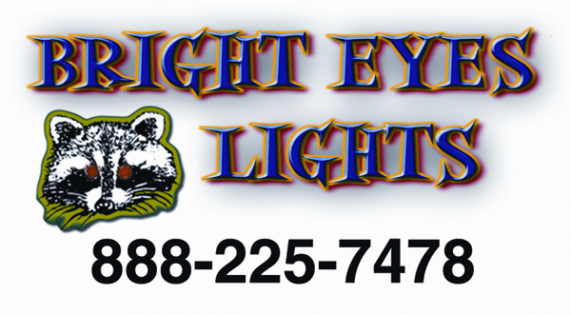 BRIGHT EYES LIGHTS
http://www.brighteyeslights.com/
The LED Experts In Lights!

Over 13 years ago Ray Conrad a lifetime hunter was trying to fix an old coon-hunting light when he decided to build his own. But what he built was quite a bit different than anything else on the market at the time: a coon-hunting light that weighed only 2 pounds, as opposed to the typical 8 pounds. Ray accomplished this using laptop computer batteries. When laptop computers came out they needed lighter more environmental friendly batteries. So the battery companies came up with better batteries and Ray took advantage of the technology breakthrough. Happy with the much lighter light, necessary because raccoon hunting is always done at night because raccoons are nocturnal animals, Ray ordered enough supplies to make three or four more lights for friends and family.  His friends and family had an absolute fit over them, and two months later, he was in business. Ray, and wife Trina, started out with a $3,000 loan and Bright Eyes Lights was off the ground.
In addition to coon-hunting lights, the store sells supplies for coonhounds and other dogs, as well as hunting wear, marine radios and artwork of Robert Hickman, a wildlife artist from Lexington.  Visit their site to see all they offer and their latest cutting edge innovations!
AKC Coonhound Events is very grateful and appreciative to Ray & Trina for their support and generosity over the years. They have provided numerous lights to many of our State Champions, Champions of our major events and to many many State Youth Champions over the years. Thank you Ray & Trina!