Southern Heritage Hunt and Show
Please join us again for our 11th Annual Southern Heritage Hunt & Show.
---
Congratulations to our 2023 Hunt and Show Overall Winners! All past Overall Hunt & Show Winners can be found on our Past Winners Page. For complete history of each year's winners, visit our FB page.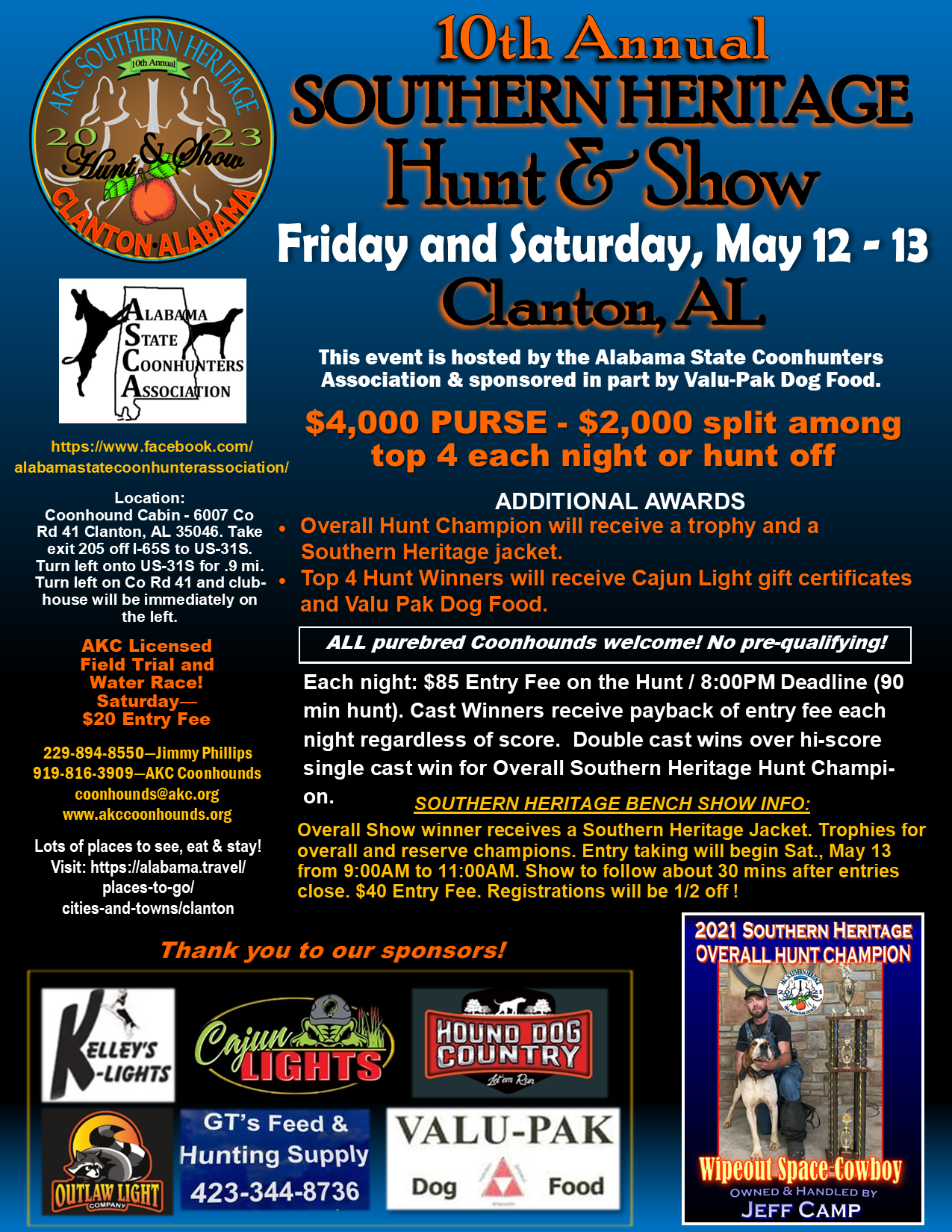 2023 EVENT INFO:
$4,000 Purse – $2,000 Split Among Top 4 Each Night or Hunt Off (determined by vote)
Cast winners each night receive payback of entry fee regardless of score!
This event is hosted by the Alabama State Coonhunters Association and sponsored in part by Valu-Pak Dog Food and Cajun Lights.
NO Pre-Qualifying:
This event is open to ALL registered coonhounds with NO pre-qualifying, NO advanced entries required. All you need is your hound's number to enter. Don't have a number? Bring your dog's current pedigree and we will help you complete a registration app, cost to register is $17 (1/2 off) so you can have a registration number. $85 entry on the hunt each night. Deadline each night is 8:00PM (90 min hunt).
Awards:
The Overall Hunt Champion will receive a trophy and a very special, one of a kind, custom embroidered Dan's jackets with the event logo on the back. $4,000 total purse will be awarded – $2,000 split among top 4 each night or the final four can vote to hunt off. The Overall Show Winner will also receive a custom embroidered Dan's jacket and overall and reserve champions will receive trophies.

Hunt Format:
Double cast wins over hi-score single cast win for Overall Southern Heritage Hunt Champion.
Bench Show Info:
Bench Show entries are $40 and entry taking begins at 9:00AM. Deadline is 11:00AM. Remember! All registrations are 1/2 off – so bring your pedigrees!
Contacts & Directions:
Contact: Jimmy Phillips 229-894-8550
AKC Coonhounds 919-816-3909 or coonhounds@akc.org
All dogs will need to be penned and dog owners may be asked for proof of rabies.
Coonhound Cabin
6007 County Rd 41
Clanton, AL 35046
Directions: Southbound – Take exit 205 off I-65S to US-31S. Turn left onto US-31S for .9 mi. Turn left on County Rd 41 and clubhouse will be immediately to the left. Northbound – on I-65N, take exit 205 to merge onto US-31S for .9 mi. Clubhouse will be immediately to the left.
All event coverage is posted on our facebook page
See You In Clanton!
For hotels/motels and area info: Click Here