Regulations & Misconduct
AKC Coonhound Event Regulation Book: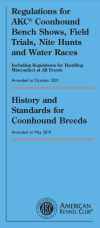 (click on book to open)
Instructions for Dealing with Misconduct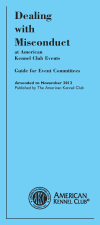 (click on book to open)
All event giving clubs must be familiar with these booklets. They are sent with all event material packets 2-3 weeks prior to a hunt. The "Dealing with Misconduct" book provides clubs instructions on how to handle disciplinary issues that may occur during an event. The coonhound regulation book provides all written regulations for all coonhound event types and the breed standards.
or give us a call 919-816-3909
or call toll free: 1-888-4DOGHUNT (1-888-436-4486)