Show Format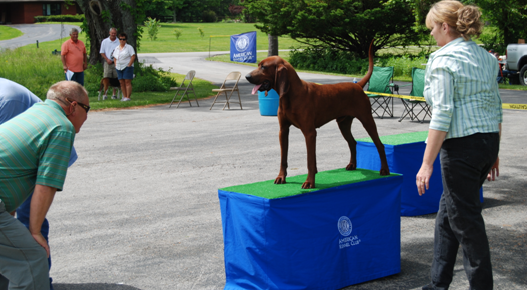 About Bench Shows
An Introduction
AKC Bench Shows function where the exhibiting of the dogs are done on the bench and they are judged according to how well they meet the breed standard as written by the particular parent club for that breed. Breed standards are written and maintained by the parent clubs not AKC. If a standard needs to be be revised, etc. the parent club must request it. Most judges today will also examine the dog on the ground and will request a down and back. There are three show titles that can be earned; CCH-Champion, CGCH-Grand Champion, CSG-Supreme Grand Champion. Dogs that have not earned a title are considered "open" and should be entered in the open classes according to breed and age. Dogs which have already earned their CCH can proceed to the "champion" classes beginning with Grand. Unlike conformation events entries for shows are taken the day of just prior to the show. The deadline time advertised is the time to get your entry in by. Shows are advertised in American Cooner and in our online events calendar. Clubs hosting coonhound bench shows are not required to list information about the bench show in their premium lists or catalogs however they can if they wish. Dogs must be at least 6 months old and have an AKC registration number or have applied for an AKC registration number at the show.
Open Class
Dogs are judged according to breed/age/sex. Age groups are: Open Puppy (6-12 mos) Junior (1-2 yr) Senior (2+ yr). Points are earned towards a title thru winning these classes: (Class 5 pts, Breed 10 pts, Show 25 pts). The male and female dogs winning BIS each earn a total of 40 pts.
At the completion of the show 1 BIS Male and 1 BIS Female will be selected. The regulations state that in order to win a CCH a dog must earn 100 pts and 1 BIS win "with competition". *Competition as of June 1, 2014 is defined as having to go against another dog in any of the previous rounds (at any level) during the open show.
*Note: This change to the clarification of Chapter 6, Section 4 of the Regulations for AKC Coonhound Bench Shows, Field Trials, Nite Hunts and Water Races was put in place after careful consideration and lengthy review process. This was not changed due to anyone or any club's single request. In the final analysis this change was voted for as it keeps consist with the principal in which a title is earned across all three bench show titles.
Champion Class
Champion wins do not earn points they earn champion class wins. It takes 3 champion class wins to earn a champion class title. (Grand or Supreme).
Bench Show Rankings
Outside of the bench show title structure BIS wins and champion class wins earn bench show points which are tabulated in the yearly Bench Show Rankings. All shows must have a final round where the BIS winners return and all the Champion Class winners return. They compete together for the final run-off round winner. The final run-off winner earns additional points that are tabulated in the yearly bench show rankings. The winner must have competition in the final run-off round in order to get the points.
---
HOW POINTS ARE COUNTED AT REGULAR SHOWS:
Dogs that earn a BIS will earn 1 point based on the number of dogs defeated while attaining the BIS win at the same show on the same day.
Dogs that earn a champion class win will earn 2 points based on the number of dogs defeated while attaining the champion class win at the same show on the same day.
Dogs that win the Overall Run-Off Round will receive 3 points for each dog defeated in the final round. There must be competition to hold a run-off round.
Dogs that have no dogs defeated while earning a BIS win will receive 1 point.
Dogs that have no dogs defeated while earning a Champion class win will receive 2 points.
HOW POINTS ARE COUNTED AT MAJOR SHOWS:
Southern Heritage, World Show, Youth/Heritage/Ladies, and *World winners will accrue additional show points in the National Rankings in the following format:
Best World Champions (overall breed winners) receive another 2 pts per dog defeated in their breed.
Reserve winner will receive an additional 3 pts per dog defeated in the final round.
Overall winner will receive an additional 5 pts per dog defeated in the final round.
For any show such as Saluda Coon Dog Days which awards King/Queen of Show they will each receive 5 pts per dog defeated.
---
Bench Show Awards
The top 3 dogs in each breed according to the bench show rankings will receive recognition at the following year's World Bench Show.
*Annual World Bench Show Explained
World Bench Show date, location and judging will always be posted to the home page with the World Hunt info once plans are finalized. Entries open at 9:00AM and close at 11:00AM $40 entry fee, show to follow approximately 11:30AM. There will be no pre-qualifying and an awards ceremony will take place to honor the previous year's breed race winners. The World Show will have open dogs competing first then advancing to compete with Champion class dogs for BOB male and female. They will then compete for Best World Champion either a male or female. These final 7 will compete for Overall Show & Reserve. See World Show Format chart.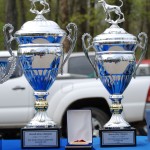 Send questions to: coonhounds@akc.org
or give us a call 919-816-3909
or call toll free: 1-888-4DOGHUNT (1-888-436-4486)