Hunt Format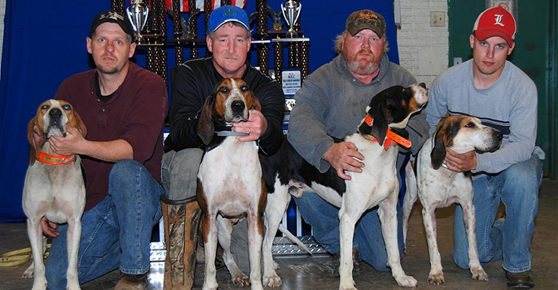 How The Hunt Format Works…
All nite hunts should be run the same according to Chapter 7 of the Regulations. However we understand that not all clubs are the same. Some have their own clubhouse, some don't, some have more members than others, or larger budgets. Keeping this in mind, the AKC program offers several different types of hunts providing clubs their own flexibility to hold the type of hunt they think will be the most successful for their club. This includes determining their own entry fee and deadline time. In order for clubs to have a financially sound event, we encourage realistic financial planning when considering entry fees. Clubs currently can hold 1 event per month up to a maximum of 4 provided this is not abused. The average club holds about 10 per year. Regardless of hunt type, or age of handler, all cast wins earned with plus points are recorded on the dog's record and will be counted towards a title (degree). See our Title Structure. As soon as a dog meets the requirements and has the correct number of wins recorded, a title is automatically generated and mailed to the first listed owner of record.
Photo Requirement
A new photo requirement went into effect Jan 1, 2013. Clubs MUST provide a time stamped (just the date is fine) photo of each cast regardless of the # of entries. The photo must show each dog with each handler in the cast. If a cast has a third person they must also be in the photo. The photos should be taken prior to when the casts head to the woods with dogs kept in same order left to right (as if you were facing the cast) as that of the dogs listed on the scorecard top to bottom. Photos need to be sent to: coonhounds@akc.org and each photo must note which cast it corresponds to. Not only does this insure the integrity of your club's wins but also allows us to promote your club and the winners. So far this requirement has been well received and appreciated. ***Photos validate the scorecard. If we don't receive photo and card wins will NOT be counted.*** To see a month's scorecards and cast photos visit our See Who Treed Page.

Hunt Types To Choose From
MONEY HUNTS: These hunts offer a 30/70 split formula for the pay out to the cast winners. There is no requirement to hold a hunt off. Pay out amounts are figured by taking the total amount collected in entries, deducting the AKC fees (*$25 license fee and $3.50 per dog entered) The remaining amount is split 30/70. The club retains 30% and 70% goes to the winners after dividing by total number of casts. All cast winners receive equal amounts. All winners receive a payout regardless of score.
It is important the host club is realistic about the anticipated number of entries and decides on a properly priced entry fee. For example if a club hosts a money hunt with a $15 entry fee they will need to have a minimum of 6 dogs entered in order for handlers to make back their entry fee expense. If the hunt has a $25 entry fee, a min of 3 dogs is needed. A money hunt chart is available to help clubs see the 70/30 split at different entry fees.
*$25 license fee is a flat fee covering the date of licensing no matter if other events are held. There is no added charge for hosting a show, trial or race on the same day.
TROPHY HUNTS: These are hunts where the host club awards trophies to winners. Each club determines its own format as to what kind of trophies will be presented and for how many placements. It is recommended that clubs take into consideration the cost of trophies when planning their entry fee.
POOR BOY HUNTS: These are simpler and more affordable for clubs to hold and for handlers attend with entry fees staying relatively low around $5 or $10. No trophies or monetary awards are required at poor boy hunts. Several clubs with tight budgets or trying AKC for the first time will book a PB hunt.
YOUTH HUNTS: These are hunts held specifically for youth handlers to participate and hunt. Most clubs have a very low or no entry fee when hosting a youth hunt. Parents must use discretion and not judge their kids. All clubs are encouraged to host at least 1 youth hunt during the year. We welcome all kids to hunt in our Youth World Championship which is offered during the summer months before school starts.
Special Hunt Designations
DOUBLE HEADERS are 2- 1 hour hunts held 1 after another in the same night. Only 1 license fee is required. A first and second deadline time is advertised and each hunt may or may not have the same entry fee. If the second hunt has a different entry fee it will be advertised. The same dogs can hunt both hunts if they like but are not required. Each hunt is a separate open hunt. Hunts with this designation have a two head symbol next to the event listing or will state "DOUBLE HEADER".
HERITAGE HUNTS are hunts geared for folks 50 and over who may want to take things a little slower out on the cast. Everything else about the hunt functions the same. We offer the Heritage World Hunt & Show which is an open event for our older hunters. Hunts with this designation have a liberty bell symbol next to the event listing or will state "HERITAGE HUNT".