AKC MAJOR CHAMPIONSHIPS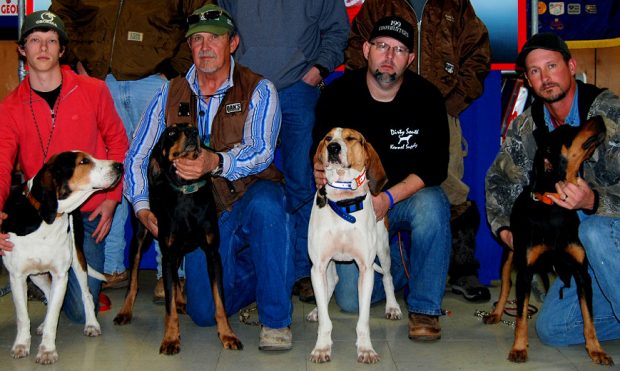 AKC SOUTHERN HERITAGE HUNT & SHOW

2017 Southern Heritage Overall Show Champion – "Second Wind's Makers Mark"
BOB Treeing Walker Male, Owned by Janis Hunter and Handled by Jason Hunter.
---

$5,000 Purse to Overall Hunt Winner
This is a benefit hunt to aid in the prevention of child abuse and is hosted by the South Georgia Coon & Squirrel Hunters Association. This event is also sponsored in part by The Exchange Club of Albany, The Albany Convention & Visitors Bureau, and The Albany Beverage Company. This is a benefit event where portions of the proceeds goes to various organizations that help in the fight against child abuse.
NO Pre-Qualifying:
This event is open to ALL coonhounds with NO pre-qualifying, NO advanced entries required. All you need is your hound's number to enter. Don't have a number? Bring your dog's current pedigree and will help you complete a registration app, cost to register is $10 (1/2 off). $75 entry on the hunt each night and $20 on the show on Saturday. Deadline for the hunt each night is 6:00PM. $20 Entry on the Show. Entry taking will begin at 9:00AM until 11:00AM deadline.
Southern Heritage Hunt Show Awards:
Eagle trophies will be awarded, all entrants receive annual collectors pin. A very special custom embroidered Dan's jacket with the event logo on the back will be awarded to each night's hunt winner, plus overall hunt and show winner.

Bench Show Info:
$1,000 Added on the show. Bench Show entries are $30 and entry taking begins at 9:00AM. Deadline is 11:00AM. Remember! All registrations are 1/2 off – so bring your pedigrees!
Contacts & Directions:
All vendors welcome. Vending space $100.
Vendor Contact: Jimmy Phillips 229-894-8550
Dog Pen Rentals: Jim Arnold 229-310-0213
All dogs will need to be penned and dog owners maybe asked for proof of rabies.
Exchange Club Fairgrounds
810 South Westover Rd.
Albany, GA 31707
DirectionsOakridge Dr. at Westover Rd. turn west on Oakridge Dr, just north of the airport.
For all post event coverage follow uson our facebook page
---
Download Printer Friendly Flyer
See You In Albany !
For hotels/motels and area info: Click Here