AKC MAJOR CHAMPIONSHIPS

2020 AKC SOUTHERN HERITAGE HUNT & SHOW
Please join us again for our 8th Annual Southern Heritage Hunt & Show.
---
Congratulations to our 2019 Hunt and Show Overall Winners! All past Overall Hunt & Show Winners can be found on our Past Winners Page. For complete history of each year's winners, visit our FB page.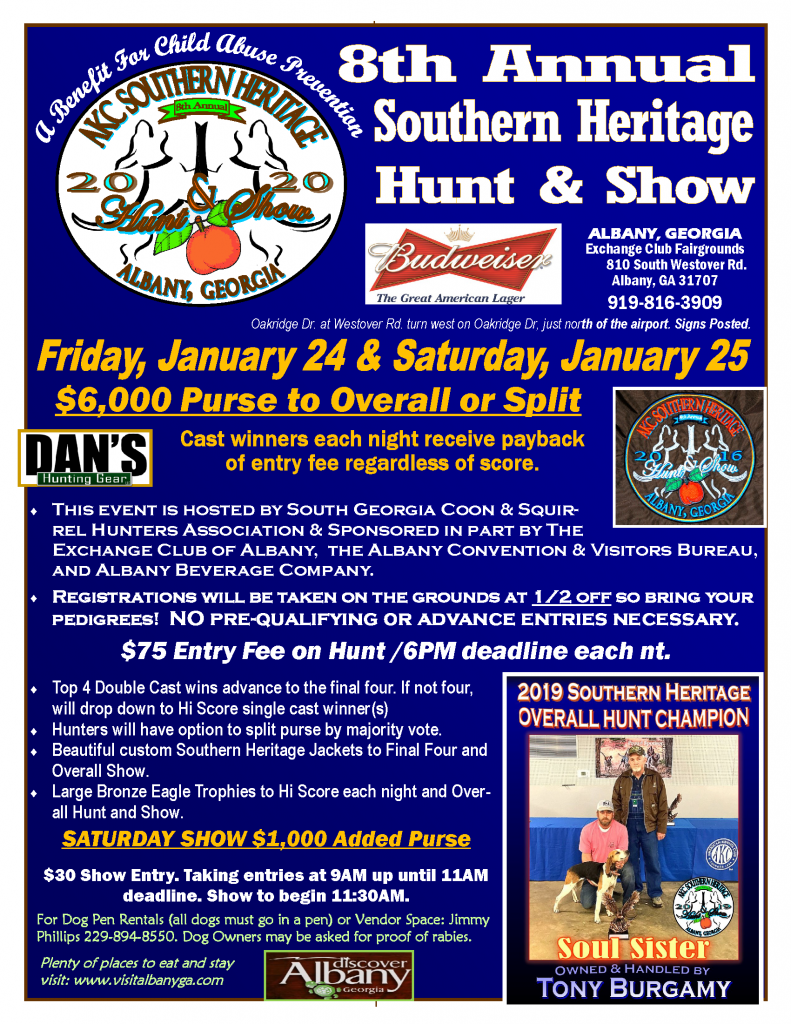 2020 EVENT INFO:
$6,000 Purse to Overall Hunt Winner or Agree to Split
Cast winners each night receive payback of entry fee regardless of score!
This is a benefit hunt to aid in the prevention of child abuse and is hosted by the South Georgia Coon & Squirrel Hunters Association. This event is also sponsored in part by The Exchange Club of Albany, The Albany Convention & Visitors Bureau, and The Albany Beverage Company. This is a benefit event where portions of the proceeds goes to various organizations that help in the fight against child abuse.
NO Pre-Qualifying:
This event is open to ALL registered coonhounds with NO pre-qualifying, NO advanced entries required. All you need is your hound's number to enter. Don't have a number? Bring your dog's current pedigree and we will help you complete a registration app, cost to register is $10 (1/2 off) so you can have a registration number. $75 entry on the hunt each night. Deadline each night is 6:00PM. A poll will be taken at the time of entries where each hunter will be asked their preference a 90 min or 120 min hunt for that night.
Awards:
Eagle trophies will be awarded to the Overall Hunt and Show winners as well as Hi Score from each night's hunt. Hunt trophies awarded and $6,000 to overall hunt winner unless final four agree to split. All entrants receive the annual collectors pin. Very special, one of a kind, custom embroidered Dan's jackets with the event logo on the back will be awarded to each night's hunt winner, and to overall hunt and show winner. There will be $1,000 added awarded on show winners, placement recipients to be announced. Trophies and Rosettes awarded as well at the show.

Hunt Format:
Top 4 Double Cast wins advance to final four. If not four, will drop down to Hi Score single cast winner(s).
Bench Show Info:
$1,000 Added on the Show. Bench Show entries are $30 and entry taking begins at 9:00AM. Deadline is 11:00AM. Remember! All registrations are 1/2 off – so bring your pedigrees!
Contacts & Directions:
All vendors welcome. Vending space $100.
Vendor Contact: Jimmy Phillips 229-894-8550
Dog Pen Rentals: Jim Arnold 229-310-0213
All dogs will need to be penned and dog owners maybe asked for proof of rabies.
Exchange Club Fairgrounds
810 South Westover Rd.
Albany, GA 31707
Directions: Oakridge Dr. at Westover Rd. turn west on Oakridge Dr, just north of the airport.
All event coverage is posted on our facebook page
See You In Albany !
For hotels/motels and area info: Click Here