AKC MAJOR CHAMPIONSHIPS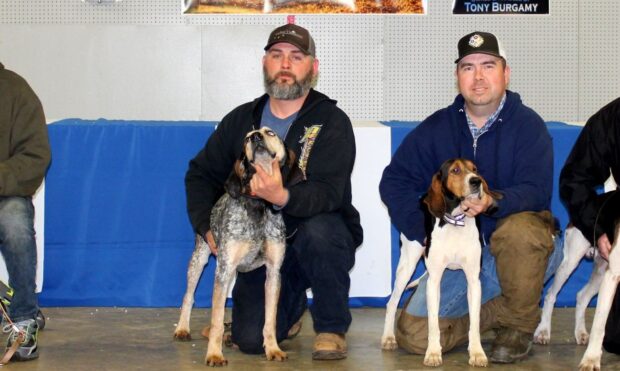 2021 AKC SOUTHERN HERITAGE HUNT & SHOW
Please join us again for our 9th Annual Southern Heritage Hunt & Show.
---
Congratulations to our 2020 Hunt and Show Overall Winners! All past Overall Hunt & Show Winners can be found on our Past Winners Page. For complete history of each year's winners, visit our FB page.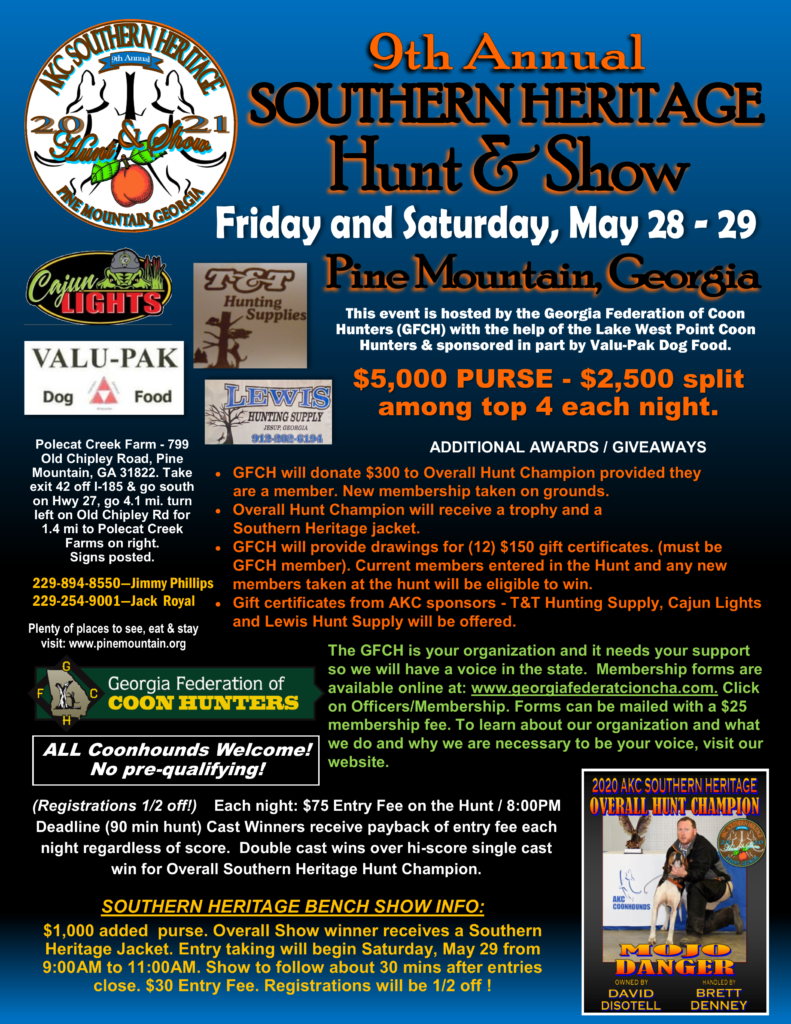 2021 EVENT INFO:
$5,000 Purse – $2,500 Split Among Top 4 Each Night
Cast winners each night receive payback of entry fee regardless of score!
This event is hosted by the Georgia Federation of Coon Hunters with the help of the Lake West Point Coon Hunters and sponsored in part by Valu-Pak Dog Food, Cajun Lights, T&T Hunting Supplies and Lewis Hunting Supply.
NO Pre-Qualifying:
This event is open to ALL registered coonhounds with NO pre-qualifying, NO advanced entries required. All you need is your hound's number to enter. Don't have a number? Bring your dog's current pedigree and we will help you complete a registration app, cost to register is $10 (1/2 off) so you can have a registration number. $75 entry on the hunt each night. Deadline each night is 8:00PM (90 min hunt).
Awards:
The Overall Hunt Champion will receive a trophy and a very special, one of a kind, custom embroidered Dan's jackets with the event logo on the back. The Georgia Federation of Coon Hunters will also donate $300 to the Overall Hunt Champion, provided they are a GFCH member. (New memberships will be taken on grounds.) $5,000 total purse will be awarded – $2,500 split among top 4 each night. There will be $1,000 added awarded to show winners, placement recipients to be announced. The Overall Show Winner will also receive a custom embroidered Dan's jacket.

Hunt Format:
Double cast wins over hi-score single cast win for Overall Southern Heritage Hunt Champion.
Bench Show Info:
$1,000 Added on the Show. Bench Show entries are $30 and entry taking begins at 9:00AM. Deadline is 11:00AM. Remember! All registrations are 1/2 off – so bring your pedigrees!
Contacts & Directions:
Contact: Jimmy Phillips 229-894-8550
Jack Royal 229-254-9001
All dogs will need to be penned and dog owners may be asked for proof of rabies.
Polecat Creek Farm
799 Old Chipley Rd

Pine Mountain, GA 31822
Directions: Take exit 42 off I-185 & go south on Hwy 27 for 4.1 mi, turn left on Old Chipley Rd for 1.4 mi to Polecat Creek Farms on right. Signs posted.
All event coverage is posted on our facebook page
See You In Pine Mountain!
For hotels/motels and area info: Click Here