Thank You To Our Sponsors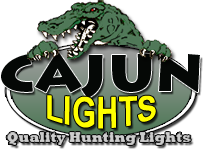 CAJUN LIGHTS
Never Be Left In The Dark
Cajun Lights has been in business for over 25 years. We strive to make the most reliable product and back it with the best warranty in the business.
We have made a lot of upgrades recently.  Our business aim is to continually improve our products and service so this is just part of that process.
We use nearly every product that we carry in our own hunting programs because we know that they work.  Remember that the old "you get what you pay for" adage rings especially true with hunting equipment. Hunters across the country know that when they spend their hard-earned money with us, we'll stand behind what we sell.  We will be here for years to come. You won't find cheap foreign junk from the big box stores hereIf at any time you have difficulty or questions please do not hesitate to call or email. We answer all messages as soon as we can. 
Phone orders are always welcome 888-773-3080
AKC Coonhound Events thanks Cajun Light for their support and sponsorship of AKC coon hunts. Cajun has generously donated lights for our breed race winners and will offer an award in the form of a gift certificate (a $150 value). 
---